Get ready to rev up those electric motors, scooter enthusiasts! We've got some exciting news for you. Electric Tour Company and GoRide Tours have teamed up to bring you the ultimate scooter adventure in the land of fog and fabulous views – San Francisco!
That's right, folks. We're talking about a GPS-guided, narrated tour that will take you from Fisherman's Wharf, through Marina Green, Crissy Field, Presidio, and all the way to the Golden Gate Bridge. And let me tell you, the view from up there is absolutely breathtaking. But don't just take our word for it, come see for yourself!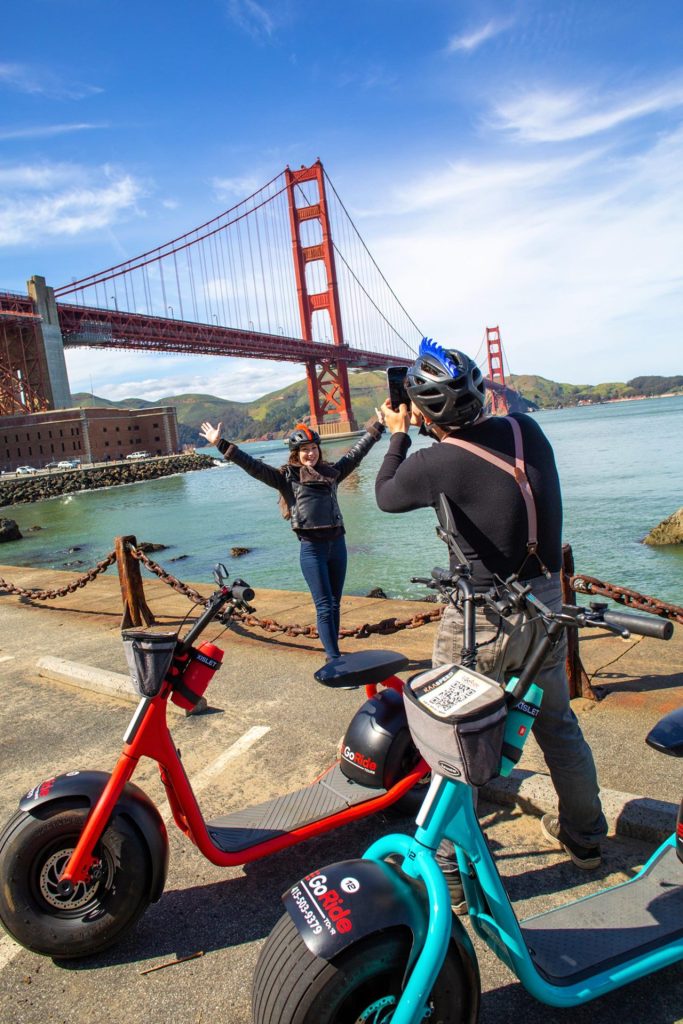 Now, you might be thinking, "But wait, I've never ridden a scooter before. Can I still join in on the fun?" And the answer is a resounding YES! We've got two types of scooters available for rent – the Fat Tire eScooter and the GoRide eTrike Scooter. The Fat Tire eScooter is perfect for solo riders, while the eTrike can hold up to 2 adults or 1 adult and 1 child, making it great for families or groups of friends
Follow the GPS-guided and fully narrated tour at your own pace
But here's the best part – the tour is self-paced. That means you can stop and take in the views whenever you want, and follow the GPS-guided and fully narrated tour at your own pace. Plus, as a bonus, our tour route offers a 30-minute loop through Fisherman's Wharf where you can see the crab stands, fishing fleet, Pier 39, and cable car turnaround. It's like a buffet of sights and sounds, and you get to pick and choose what you want to see.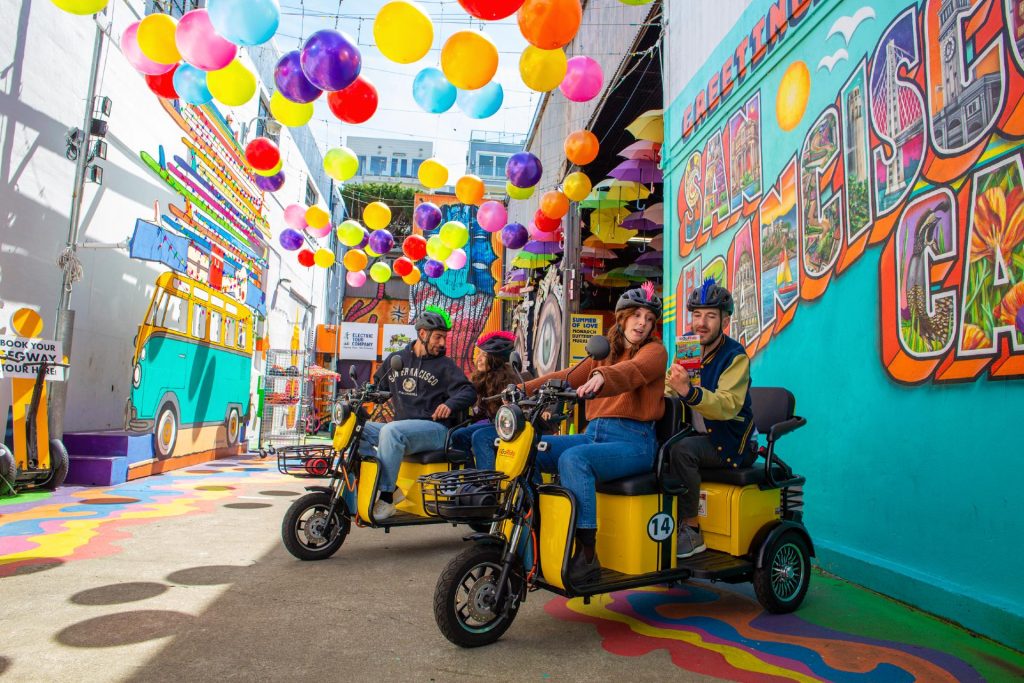 So, what are you waiting for? Grab your friends, family, or significant other, and come join us on this scooter extravaganza. Trust us, it's an experience you won't forget. See you on the streets of San Francisco!
Why, What, and When?
GPS-guided and narrated sightseeing tour to the Golden Gate Bridge and back
Two different types of scooters are available for rent: Fat Tire eScooter and GoRide eTrike Scooter
Bonus 30-minute loop through Fisherman's Wharf for added sightseeing and shopping opportunities
Fully narrated and GPS-guided tour, with the freedom to stop when and where you want for a truly personalized experience
Your Destination – The Golden Gate Bridge
The Golden Gate Bridge is a world-renowned icon and a must-see attraction for anyone visiting San Francisco. It spans 1.7 miles across the Golden Gate strait, connecting San Francisco to Marin County. The bridge is known for its bright orange color and its impressive engineering, having stood as the longest suspension bridge in the world upon its completion in 1937.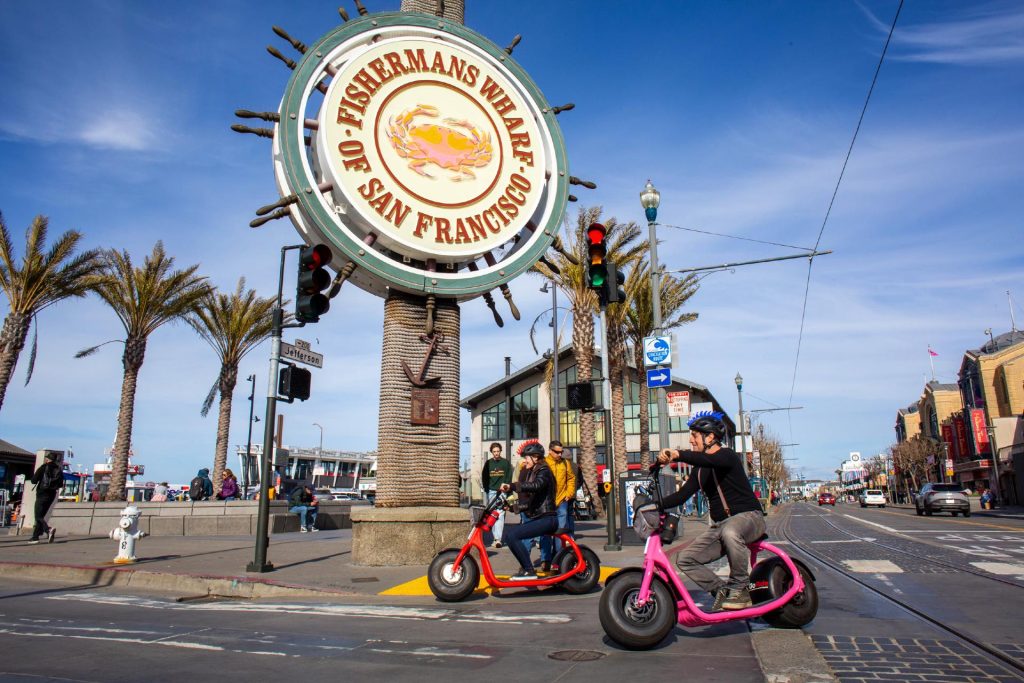 Start your E-Scooter rental at Umbrella Alley in Fisherman's Wharf
Are you ready for an unforgettable experience exploring San Francisco? Look no further! Our GoRide eScooter rental and GPS tour is starting at Umbrella Alley, located at 757 Beach Street, San Francisco CA 94109. Nestled near the Buena Vista Cafe on Beach Street, Umbrella Alley is one of the coolest art-filled alleyways in San Francisco. You can easily spot it by the colorful murals and installations plus brightly colored balloons and umbrellas suspended throughout the entire space. The Hyde Street Cable Car turnaround is across the street and Ghirardelli Square is at the end of the block. It's the perfect spot to start your adventure and snap